Pro Pants, now in its third year, is a counter-movement to Improv Everywhere's annual No Pants! Subway Ride. The Pro Pants mission is to inform pantsless riders about the joys and advantages of pants and to persuade them to accept pants into their lives. The campaign's methods are highly effective: an estimated 100% of pantsless people enter a long-term pants-full lifestyle within 24 hours of encountering a Pro Pants representative.
After the successes of Pro Pants 2K9, the Pro Pants movement saw extraordinary growth for 2010: more than double the number of representatives and almost quadruple the amount of literature distributed.
The No Pants! ride started at six different locations across New York City, but all 3000 participants were slated to arrive at Union Square. Pro Pants representatives were ready to greet them:
Four Pro Pants representatives wearing sandwich boards roamed Union Square Park handing out pamphlets and engaging in thoughtful dialogue with the pantsless.
A dozen more representatives walked around passing out literature and directing the pants curious to Free Pants Test stations.
Eight Pro Pants representatives issued Free Pants Tests, one-page questionnaires entitled "Do You Need Pants?".
Two Pants Technicians measured and fitted willing questionnaire-takers with pants if the results indicated they were in need (they always were, of course).
Pro Pants representatives issued more than 300 questionnaires, distributed 1500 pamphlets, and gave away 20 pairs of pants, including several fully recycled plastic "trial pants". And within 24 hours, roughly 100% of the 3000 pantsless riders had accepted pants into their lives!
Materials
---
Prior Art
---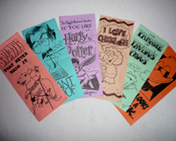 Pamphlets by Jews for Jesus
Credits
---
Masterminds
Sandwich Board Wearers
Questionnaire Ambassadors
Pants Technicians
KD Herr
Debra Keneally
Literature Circulators
Meredith Bak
Ashleigh Cassemere-Stanfield
Paulo Fonesca
Yotam Gingold
Rachel Patterson
Pavan
Photographer
Pants Accumulator
Naomi Huth