This collection of words began as a tweet that I considered far funnier than it probably was. I decided it would be even funnier to put the words in an elaborate gold frame and hang it in Flux Factory.
Unexpectedly, a friend of a friend expressed interest in buying the piece for her office. When I decided the price was a 5000-word essay on the value of concision, her interest waned. So I announced the "sale" in an Infrequent Dispatch.
Only two and a half hours later, friend and colleague Moses Gates delivered an eight-page stream of consciousness essay that touched on many aspects of concision, including the inverse relationship one has to time when reading vs. writing concise work, concision's many shades of gray, and that forgetting is the ultimate act of concision.
Materials
---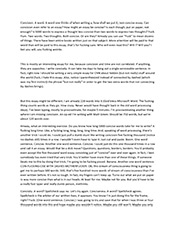 Exhibition History
Credits
---
Word Assembler
Patron